Join the Opssessed
Why you'll want to read my obsessive take on digital operations & productivity.
Hi!
My name is Tem and I run a digital ops agency called Optemization. You're getting this email because at some point since March 4th 2020, you for some reason decided that I'd be a good idea to subscribe to this wonderful "upcoming" newsletter Automagic… or you subscribed on optemization.com
So yeah Automagic hasn't formally shipped and will not, ever. But it has left its Product Hunt cocoon and became this — that is a Substack called Digital Opssessions.
TL;DR
So we spend most of our days on computers and phones — might as well learn how to use them really well. Especially, since we're all going to be remote probably forever. This newsletter, hence, will show you how to do this through fun guides, templates, events courses, and videos.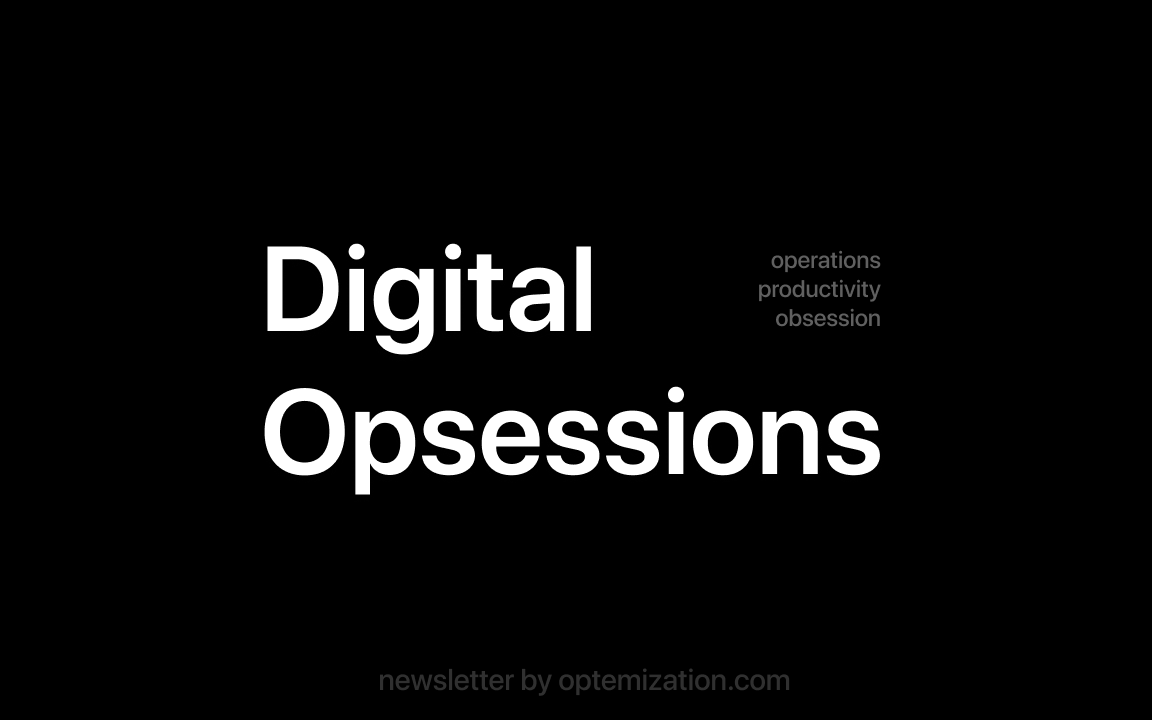 ---
About
Designing the best processes and systems for our digital spaces is freakin' hard. Not only it takes a long time to settle on the right software but everything changes all the time. More info, new tools, new features, and unforeseen limitations demand constant adjustment. So who has the time to keep up?
Me
I'm obsessed with operations — not even just in the business context but more in the "figuring out how things work and how can it be done better." Odd, right? I don't know but I'm just inexplicably drawn to this stuff.
Now It just happens to be that for the past five years, I channeled this obsession into mastering digital organization and productivity software. It all started with good ol' Excel and over the years I tried Drive, Trello, Asana, Evernote, Things, Sunsama, Flow, Airtable, and Todoist (in that order).
To no avail — every tool was unsatisfactory until I found Notion. For me, it's the all-in-one everything software and I actually love it. In the coming posts, we'll explore why it works for me and how it can work for you. But I will make sure that isn't a "Notion only resource."
Posts
My ambition for Optemization is to become a kickass media company focused on DOPE content. DOPE being "digital operations and productivity education" — and tell me now if it sucks because one way or another we'll need to come up with a fun acronym.
Anyway, Digital Opsessions will play a big role. In the beginning, I'll focus on designing digital operating systems without code. Hopefully, these will let people time and allow for more focus on the things that are more fun or important.
To get a taste of the sweet, sweet content go here: optemization.com/writing. I'll be re-posting these later.
LifeOS
The first new project I want to work on is a life operating system in Notion and I want to share posts, videos, and templates on how to create one. I want to create a super easy to use dashboard where I can track and draw insights from
reflections / thoughts 2

meetings with friends/colleagues/clients

food eaten (no calories, simple)

exercise (tracked with apple watch)

media consumed (film and books mostly)

rewards (snacks and substances)

strain, recovery, sleep data from Whoop

weight and body fat from Withings

and any negative health symptoms
I have an analogous system setup for Optemization that stores:
Notes

Tasks

Projects

Contacts

Companies

Writing

Timelines

Website

Decisions
and it looks like this (prepare to be overwhelmed):

So yeah adapting this strategy to a personal space is going to be interesting, fun, and useful!
At this point, you probably decided if you're vibing with this content or nah. If you are, share it with a friend!


Let's go — Tem (@optemization)